Event: Alien Life: The Science and the Hype (Does Denver Need an Extra-Terrestrial Affairs Commission?)
Just in case some of you readers out there will be in the general area of Denver, Colorado this Thursday, I'm announcing the following event:
Date: Thursday, October 23rd

Time: 3:00pm-5:00pm

Location: Auraria Campus, North Classroom Building (the lecture hall in the atrium, map of campus)

Street: 9000 Auraria Parkway
This October 23rd, Metro State Atheists will be hosting a lecture by David Grinspoon, author of "Lonely Planets" and curator of astrobiology at the Denver Museum of Nature and Science, on the blunder that is the Denver ballot initiative for an Extraterrestrial Affairs Commission. Lucia Guatney, author of the popular blog "Splendid Elles", will be presenting Grinspoon.

Grinspoon is the 2006 recipient of the Carl Sagan Medal given for public communication in the Planetary Sciences. You can find his personal website at http://www.funkyscience.net/

As if that wasn't incentive enough, Phil Plait might be there:
I might be able to go; hard to say. Why is it 3 hours? Is there that much to say about aliens *not* coming to Denver? 🙂
I'm quoting him, don't quote me, and don't get your hopes up.
Oh, and it's not 3 hours long. It's 2. One hour for speaking, another for Q&A and then whatever happens after that… meh. Maybe people will get together and go out for dinners?
So yes, a really awesome astrobiologist will be there, I will be there, and there's a chance Phil Plait might be there (although that chance might be slimmer than one of us getting hit by a meteorite and according to Death From the Skies! those chances are rather slim).
Anyway, if you aren't coming, I have the following screenshot from comments left on the event with a post from David Grinspoon in response to that: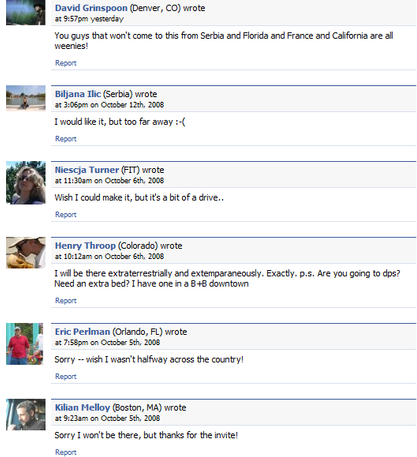 You guys that won't come to this from Serbia and Florida and France and California are all weenies!